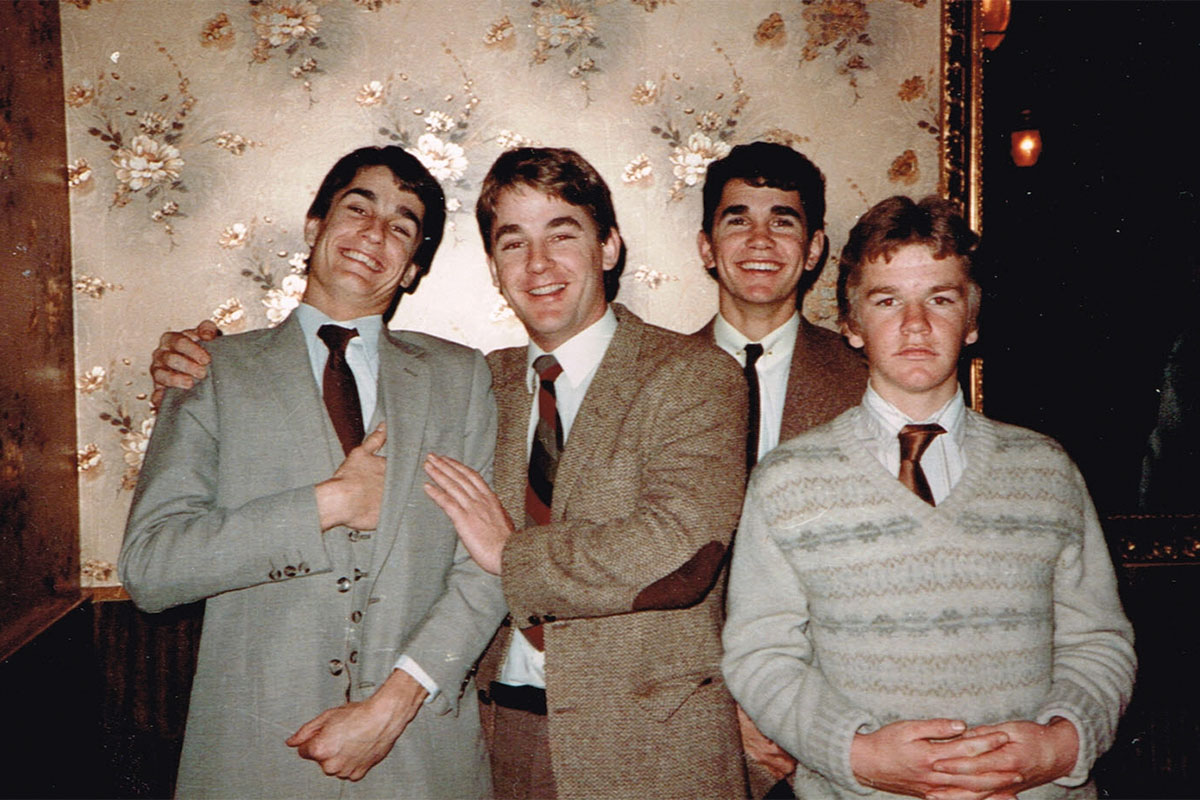 My brother, Martin, was the youngest of four brothers. He was the youngest son to John and Dorothy Veal and Christopher, David and Timothy were his brothers. He was born on 15th December 1967 and at the time of his passing he was 48 years old. He is survived by his two sons Spencer and Cooper and his wife Mishelle.
Growing up with three older brothers, Martin became very good at sports and was the leading cricketer and footballer of the local area. He excelled at any sport he attempted winning the Heidelberg Golf open against all comers at the age of 15. He played Gridiron for Australia and toured the USA with this team. He also won premierships with Banyule Cricket Club and Old Ivanhoe Football club.
Martin joined the Victoria Police Force at the age of 23. Before that he briefly tried primary school teaching, bookkeeping and assorted jobs. I believe the police force gave him stability and focus. He rose to the rank of Senior Sergeant and undertook numerous roles including manning the Victorian Police helicopter.
Martin however found his role as an IT person very satisfying. He enjoyed all the computer jargon and loved the satisfaction of obtaining the correct answer for a problem that computers gave. Martin enjoyed putting things in order, accounting, book work, computers all these topics allow for the exactitude which Martin loved.
From the picture I am painting it would appear Martin enjoyed his life. A satisfying job, two lovely children, however Martin's marriage wasn't holding up and this is where the problem was.
These words are not to dissect Martin's marriage that would be unfair to Martin's ex-wife. This is to examine why someone might kill themselves and the impact that is felt afterwards.
Martin was a policeman and Martin used his police revolver to end his life. He also completed this act at a local school where he knew his ex-wife and son would be that morning. Martin deliberately used this act to punish his ex-wife and son and it was his 15 year old son who found his father dead.
We will never know what ultimately led Martin to end his life. When the police attended his home later in the day with my brother, David, they found everything in the home in order.
Laid out on the kitchen bench were his keys, wallet, bank cards, bank details etc. The police who attended told David that this was the norm. All the receipts for mortgages, banking, and utility bills were in a folder all ready to be examined and Martin had adjusted his will recently. All these tasks had been done in the lead up to that morning. Martin knew what he was doing and had planned the act for a while.
To compound our family's pain, our mother had been admitted to hospital on the Sunday night (the day before the suicide). She had fallen and suffered a broken ankle. Martin killed himself at approximately 6.00am Monday morning and she was oblivious to all this until early Monday morning, my father and Timothy went to go to the hospital and told my mother that her youngest son had killed himself.
Martin had spoken with her late on the Sunday night and said it was best that she was in hospital so she could get the attention necessary. Martin also had spoken to our father the night before in regards to mum. Martin had spoken to both of his parents the night before he suicided and both said they detected nothing wrong and will now have to live with the thought that that was the last time they ever spoke with him.
My older brother Timothy said to me later that week, if Martin was sitting up in a tree looking down upon us, he would say "What have I done?"
my father told my mother that her youngest son had killed himself
Two lovely houses have to be sold, two growing boys will never see their father again and he will never see them grow up. He has left a mother and father in grief and three brothers have no younger brother.
Martin was also the local good sportsman and so many sporting teams will no longer be able to say hello to Martin.
In my opinion the process of grieving is different with suicide as to car crashes (both sudden events). With suicide there is a lot of hurt, questions and anger.
Why? Why? Why?
What if he had come to me with his problem, what if?
The funeral was an enormous event. In excess of 1,000 people attended the local town hall all wondering why this 48 year old man chose to end his life. Unfortunately that question will never be answered.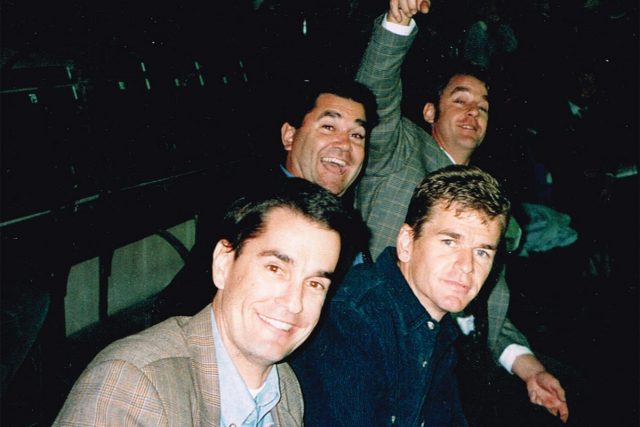 The police presence was fantastic and credit goes to the Victoria Police with the due respect shown to my brother. The Assistant Commissioner spoke to my family and I and it is a credit to her for taking the time to be present. At the commencement of the ceremony there was a strong police guard in which Martin was paraded by. All the men of our family marched behind the hearse and this cortege was very impressive with its community presence.
As with any funeral of a well-known man, people came to pay their respects even though Martin had not seen them for a long time. Friends of the family and friends of the brothers also attended. It was great to see so many old faces that I haven't seen for so long as I had moved out of the area 20 years ago. It was unfortunate that it had to happen at this time, but in life it is usually death that brings us together.
Direct friends of Martin, friends of the family, distant cousins and long-time friends, everybody is always sympathetic and most people just said "sorry for your loss" and that is all that seems to be said. It was however very interesting to learn other stories of suicide and how many people have been touched by this very common occurrence but the topic is never discussed.
Some of the unpleasant tasks associated with my brother's suicide had to be undertaken by my older brother, David. These tasks are never mentioned or thought about when someone commits suicide. I am unsure if Martin had thought of any of this.
Martin drove his own car to the place. Consequently once the police had cleaned the car, David had to drive it back to Martin's home. A task I am sure I could not have done. Martin had a motorbike as well and this and the car will have to be sold.
Timothy and David, during the next week had to clean Martin's house ready for sale. They went into the house and Timothy said it was very eerie, the rooms were clean and tidy, the fridge was full of food, and the beds were made. If you didn't know, you would be expecting a person to walk in the front door. It was as if Martin was leaving it for someone else.
You never think anybody in your family is going to die in a plane crash, car crash, die of cancer or commit suicide and when it does occur it's a shock because it is never expected. You almost certainly never think about what you have to do afterwards.
Old clothes, food in the fridge, car registration, disconnect the electricity, water and gas. All these things need to be done and it is usually left to one person. In this case it was my brother David, and thank God for him.
it's a shock because it is never expected
I live in Queensland and the rest of my family live in Melbourne so I was getting all this via telephone and during and after every conversation I was crying and feeling very inadequate. I eventually made it down to Melbourne (after organising my business) and the first meeting with myself and my other brothers and father was very difficult indeed. Then I had to go to the hospital to visit my mother which was an unpleasant experience.
I don't know if talking about it would have changed my brother's mind. You must be very determined to do something knowing the repercussion of such an act will lead to you never seeing your children again or see them grow up. This wasn't teen bullying or suicide by pact, this was a 48 year old man who had established himself financially, had a successful career and two lovely boys but his marriage had broken down and I believe he took that to heart, (too much I think) and the consequences were drastic.
I don't know how long it will be for people to move on. My parents seem ok but I think Mum's broken ankle lets her focus on something else and I know some of my brothers are moving on but others have not.
I know I never had that much to do with Martin because I had moved away so young but I am still sad with such a tragic loss.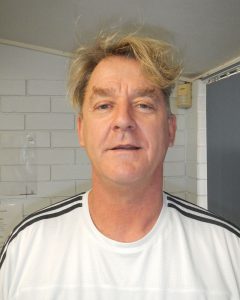 Christopher Veal has over 30 years' nursing experience of which 20 years has been with mentally ill and disadvantaged people. Christopher has worked in regional and remote communities and prisons providing mental health care. Christopher currently operates his own business providing supported accommodation to mentally ill and disadvantaged people on Brisbane's Southside.